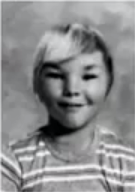 Theodore is the very indecisive one. He always thinks a lot, stutters, cannot make a decision, and then he says something random. For example, "Mrs Mung-uh I would-uh, I would like-um, to go-uh, no, I-uh. Shoes?" He is voiced by Peter Hastings, also the voice of Mrs. Munger.
Controversey 
Edit
The photo used for Theodore is of Theodore Falce, whose photo was also used for Grace.
Ad blocker interference detected!
Wikia is a free-to-use site that makes money from advertising. We have a modified experience for viewers using ad blockers

Wikia is not accessible if you've made further modifications. Remove the custom ad blocker rule(s) and the page will load as expected.