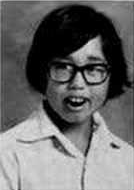 Lance is one of the class nerds in Mrs. Munger's class. He only speaks Pig Latin. He is friends with Rock. He is voiced by Rob Paulsen.
Controversy
Edit
The photo used for Lance was of Micheal Link, who was one of the students who sued Disney. Link said how he was portrayed caused him "emotional distress".
Ad blocker interference detected!
Wikia is a free-to-use site that makes money from advertising. We have a modified experience for viewers using ad blockers

Wikia is not accessible if you've made further modifications. Remove the custom ad blocker rule(s) and the page will load as expected.