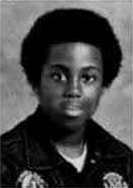 Gordon is the sarcastic student who always makes sarcastic marks toward things and people (usually Grace) and then says "Olé!" after each sentence. He is voiced by Cree Summer for the most, latter part.
Controversy
Edit
The photo used for Gordon was a photo of Edward Jackson, a student at Woodbridge Middle School in 1975. Jackson would later filed the lawsuit against Disney after his neice recognized his photo. He claimed he was offended by how he was portrayed.
Ad blocker interference detected!
Wikia is a free-to-use site that makes money from advertising. We have a modified experience for viewers using ad blockers

Wikia is not accessible if you've made further modifications. Remove the custom ad blocker rule(s) and the page will load as expected.